Vancouver Walk-In Tub Installers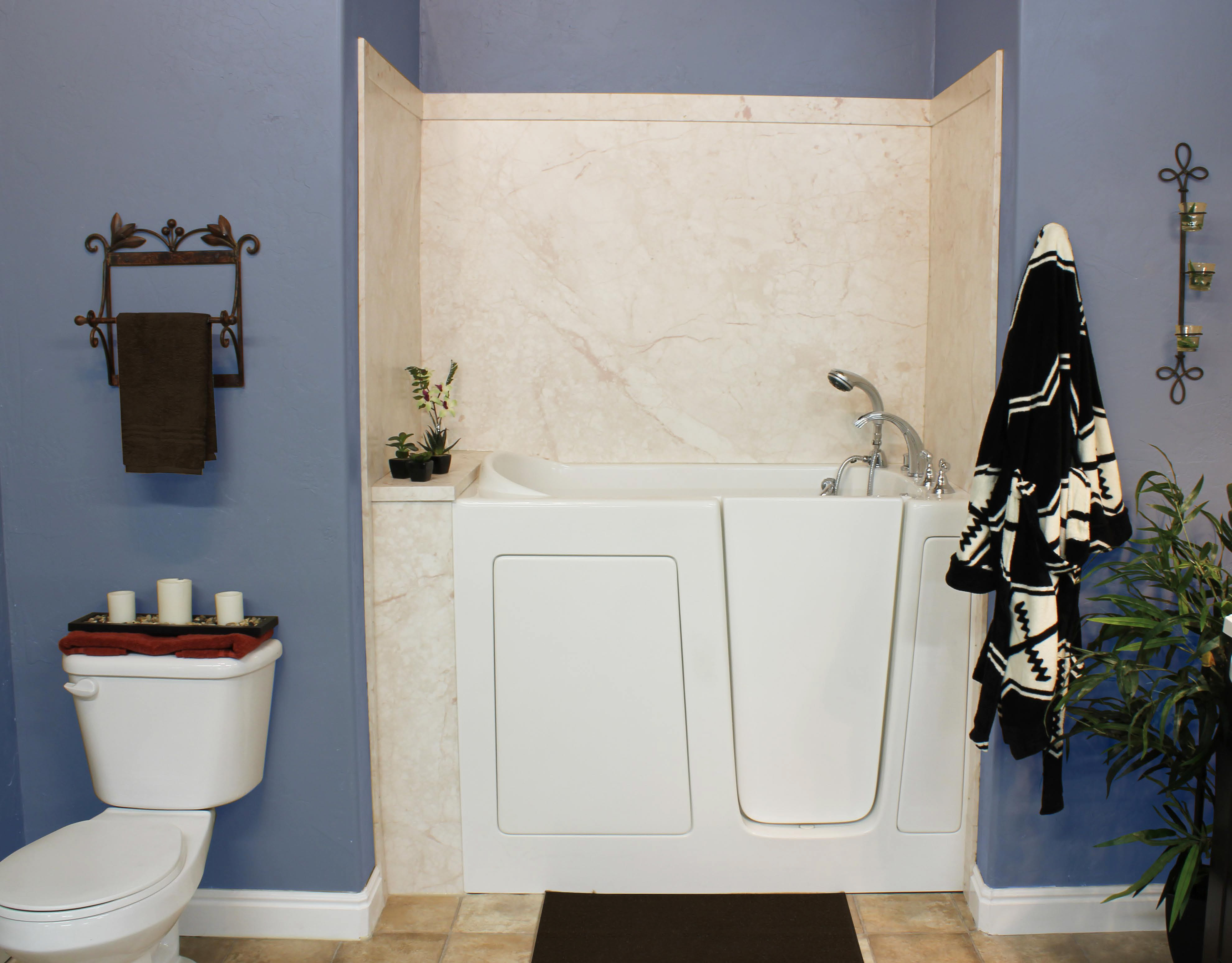 If you are thinking about a bathroom transformation to meet the needs of aging individuals at home, you should contact Five Star Bat Solutions of Vancouver for walk-in tub installation. For a safer, more hygienic, and cleaner bathing experience, you can count on us to bring the desired transformation in your bathroom.
Perfectly Suitable for Seniors
Walk-in tubs from Five Star Bath Solutions of Vancouver have many safety features. This makes them perfectly suited for seniors and people with mobility issues. The ease-of-use and convenient features will fit in with the aging-in place design concept.
Your safety and health are our main concern. You can rest assured that our walk-in tubs will meet the safety needs. Our walk-in tubs feature built-in ADA-compliant grab bars, low step-in, and anti-slip surfaces. The bathtubs also feature a leak proof door that allows safe and easy access.
Luxury and Comfort
Our walk-in tubs provide optimum comfort and convenience. The bathtub comes with a variety of luxury features that can greatly upgrade your bathing experience. You can select hydrotherapy features including massaging jets allowing you to create a spa-like environment right at your own home.
The walk-in tubs from Five Star Bath Solutions of Vancouver allow safe, comforting, and relaxing bath. The dual therapeutic system relieves pain, boost energy, and help improve sleep. They are ideal for aging individuals allowing them to stay longer in the place they call home.
Lots of Quality Features
Every walk-in tub from Five Star Bath Solutions of Vancouver is made in the USA. The tubs are highly upgraded and made to last for a long time. Some of the comfort and convenience features of our walk-in tubs include the following:
Aromatherapy and Hydrotherapy systems
Anti-microbial properties
Highly quality durable acrylic material
Convenient faucet handles
Handheld shower nozzle
Fast flow drain
Heated seat and backrest
Leak proof walk-in door
Easy access due to low step threshold
Quick and Easy Installation
Installing a new bathtub does not need to be a lengthy or messy process. If you are pressed for time, you will be glad to know that we can quickly install the bathtub in one day.
At Five Star Bath Solutions of Vancouver, we understand the time constraint of our customers. No need to wait for days for the bathroom renovation to complete. We can turn your bathroom in a more comfortable, enjoyable, and cleaner space.
What's even better is that the installers will clean up all the mess after installation. The only thing that you have to do after we install the bathtub is to enjoy a new bathtub.
Walk-In Tub/Shower Combo
Do you want to enjoy the comfort of the bathtub as well as the convenience of a quick shower? If so, you should let Five Star Bath Solutions of Vancouver install a walk-in tub/shower combo. The combo has a lot of convenient features including shower wand, easy-to reach controls, and massaging water jets.
Our walk-in tub/shower combo is cleaner and more hygienic as compared to traditional bathtubs. The anti-microbial properties minimize the risk formation of mold, mildew, bacteria, and other pathogens. You won't have to worry much about regularly cleaning the bathtubs.
A Large Collection of Bathtubs
At Five Star Bath Solutions of Vancouver, we have a large variety of walk-in tubs. The bathtubs are available in a range of color, design, and sizes. You can select a bathtub that suits your exact requirements. Our bathtubs are made of durable acrylic material. They can last for a long time without chipping, cracking, and discoloring.
Free Consultation
If you are having difficulty in selecting a bathtub for your bathroom, contact us at (604) 243 2933 today for a FREE, in-home consultation regarding bathtub installation. Our designer will come to your place to provide you a solution based on your requirements and budget.