Toronto West Walk-In Tub Installers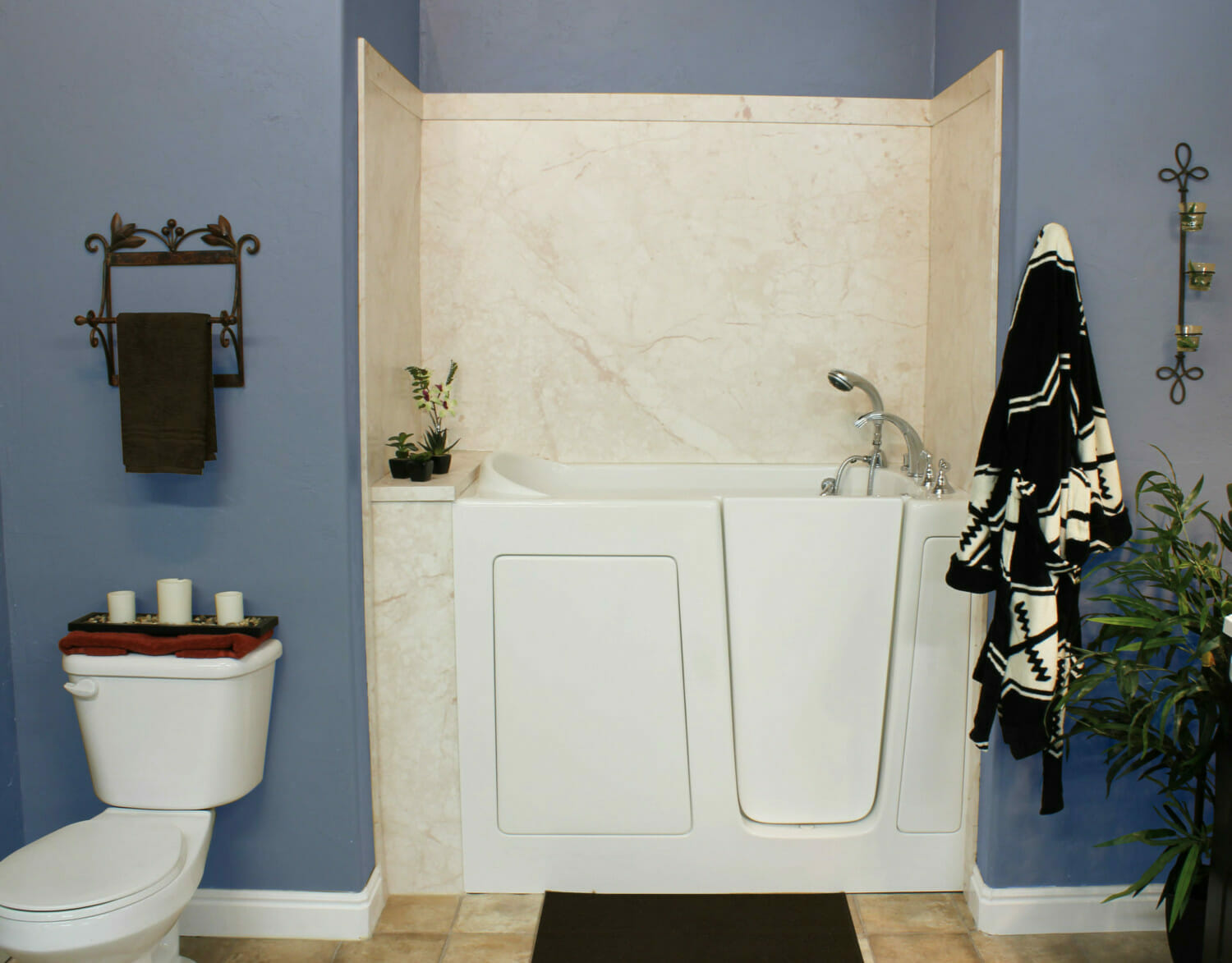 Whether you want to replace your existing bathtub or convert your shower to a tub, Bath Solutions of Toronto West can provide you the perfect solution. Our walk-in tub installers can transform your current bathroom into a beautiful place.
Safety and Comfort
When it comes to comfort and safety features, walk-in tubs from Bath Solutions of Toronto West are the best. Our walk-in tubs have a lot of unbeatable safety options. You can replace your high-rise tub with a walk-in tub that has a leak-proof side door allowing more safe and convenient access to the tub.
We focus on providing optimum safety and comfort to our customers through our products. Our walk-in tubs can also be customized to your specific needs. The bathtubs include built-in seats, anti-slip surfaces, low step-in, and ADA-compliant grab bars.
Variety of Luxury Features
Our bathtubs have a variety of luxury and comfort features. They feature hydrotherapy options that can boost your energy and relieve your pain. You can select from a large number of features such as massaging water jets and heated backrest creating a spa-like experience.
The bathtubs are highly upgraded, professionally installed and customized to the exact specifications of our customers. The bathtub comes with a lot of different convenience and safety features such as:
Low step-in provides easy access
Leak proof side door
Heated seat and backrest
State-of-the-art aromatherapy and hydrotherapy systems
Massaging air jet system
Anti-microbial properties
Non-porous surface prevents dust, dirt, and grime build-up
Walk-in Tub/Shower Combo
Our walk-in tub/shower combo combines the convenience of a shower with the luxury of a bathtub. The combo includes a shower wand, easy-to-reach controls, personal hygiene bidet, and massaging water jets. The combo has a lot of therapeutic and convenient options that can provide great comfort and convenience.
Satisfy the Needs of Seniors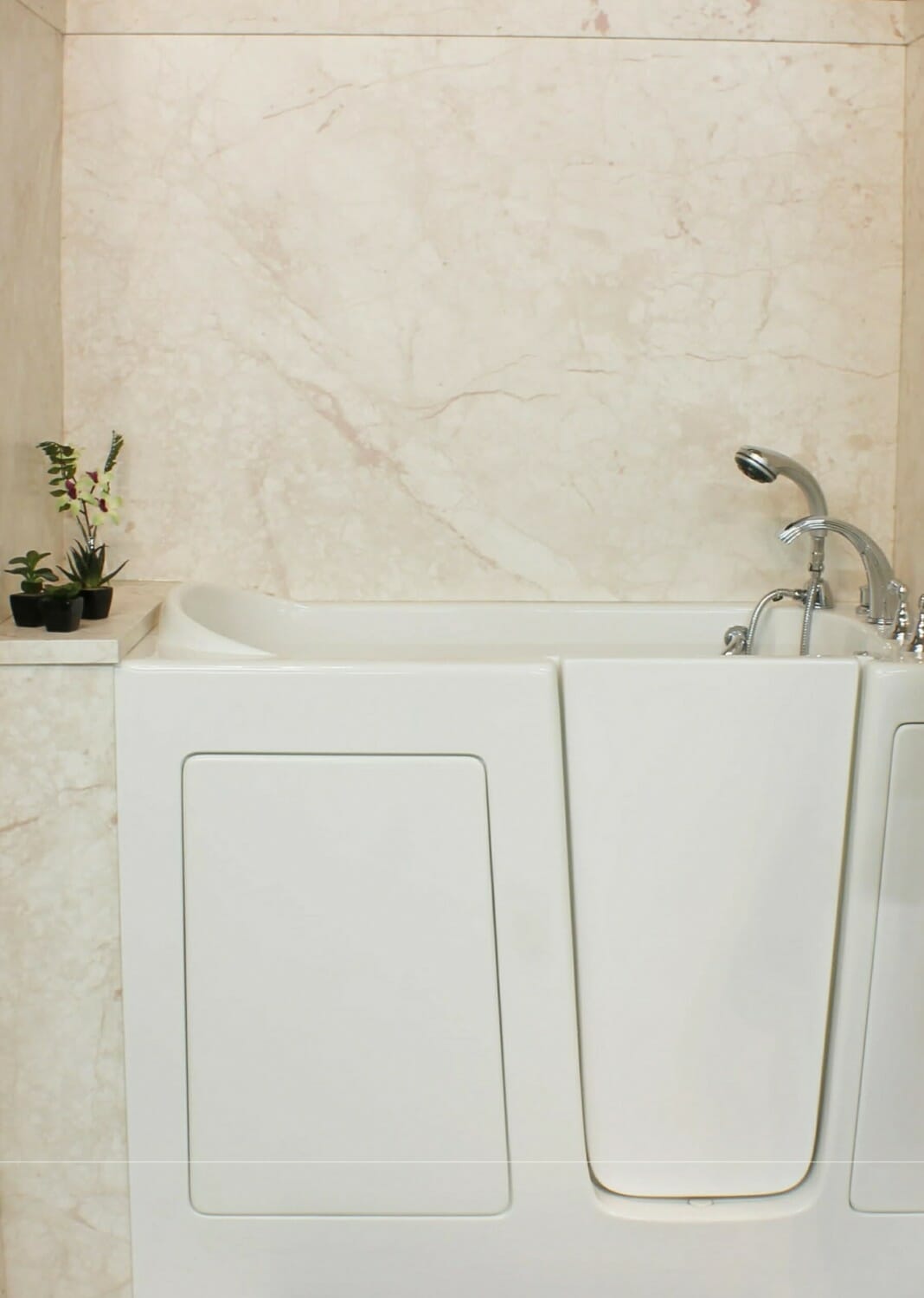 Walk-in bathtubs can easily satisfy the needs of the seniors. Our tubs are also ideal for people with disabilities. Most of the slip and fall injuries tend to occur in the bathroom. Of these, the majority of falls occur in or near the bathtub or shower.
The chances of an injury increase significantly when a person turns 65 as their eyesight starts to fade. Usually, injuries occur when a person tries to step into the high-rise bathtub or
when leaning on a glass door that was not designed to support the weight.
Fortunately, a bathroom can still serve as a relaxing refuge for seniors and those with mobility limitations. Our walk-in tubs come with many safety features. You can enjoy a relaxing, warm bath that relieves your stress, aches, and pains.
One Day Installation of Walk-in Tubs
Our walk-in tub installers can complete the installation in just one day. We recognize the time constraints of our customers. That's why our installers strive to complete the project in just one day. We are determined to make the installation process easy, worry free, and quick. You won't have to wait long to use your new bathtub.
No-Obligation, Free Consultation
Bath Solutions of Toronto West provides free, in-home consultations for walk-in tub installation. Our walk-in tub installers will come to your home to answer your questions regarding installation of a walk-in tub. If you want to schedule a FREE in-home consultation, contact us at (416) 467-4949 today.