Minneapolis Walk-In Tub Installers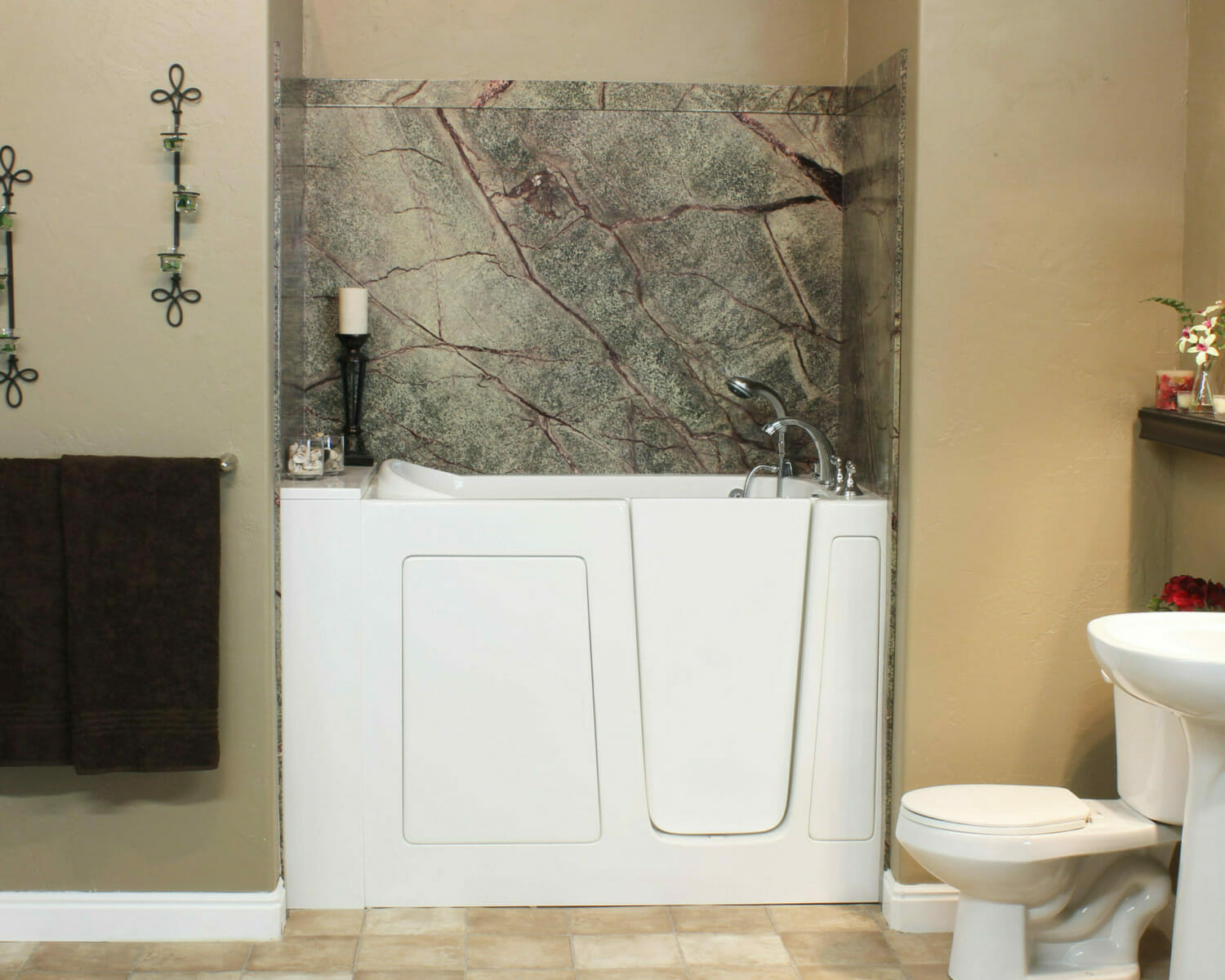 For aging or elderly residents that live in homes with unmodified bathrooms, a walk-in tub such as ones offered by Five Star Bath Solutions of Minneapolis could prove to be useful. Walk-in tubs feature safety-centric designs that improve the ease with which elderly or disabled people can bathe.
Their designs feature sturdy doors that make it easier to safely enter or exit the tub area without having to climb over the side of the tub. Walk-in tubs also include built-in seating areas that make bathing easier for individuals who experience difficulty standing for extended periods of time.
You can purchase walk-in tubs as stand-alone units for your bathroom, or modify an existing tub to include a walk-in door mechanism.
Prioritizing Safety and Convenience
Five Star Bath Solutions of Minneapolis offers walk-in tubs, and walk-in door modifications to existing bathtubs. Our walk-in tubs can be further customized to suit your needs and preferences. With add-ons such as built-in seats, ADA-compliant grab bars, and whirlpool jets.
The Best Walk-In Tub Providers in Minneapolis
Five Star Bath Solutions of Minneapolis offers quality walk-in tubs and provides exceptional installation services. Our team of experts is prepared to guide you through the process of choosing the walk-in tub that best fits your tastes and preferences, in addition to feeling secure. Our goal is to make the end product feel like a welcome addition to your bathroom.
Our walk-in tubs are made of high-quality acrylic and come in a variety of styles and colors. They are also coated with an anti-microbial that discourages the growth of mold and mildew.
Contact Five Star Bath Solutions of Minneapolis to explore our wide range of walk-in tubs, and enhance the safety and convenience of your bathing experience today. One of our representatives will be glad to guide you through our catalog and provide a FREE estimate on designs and installations.
Combining Style and Safety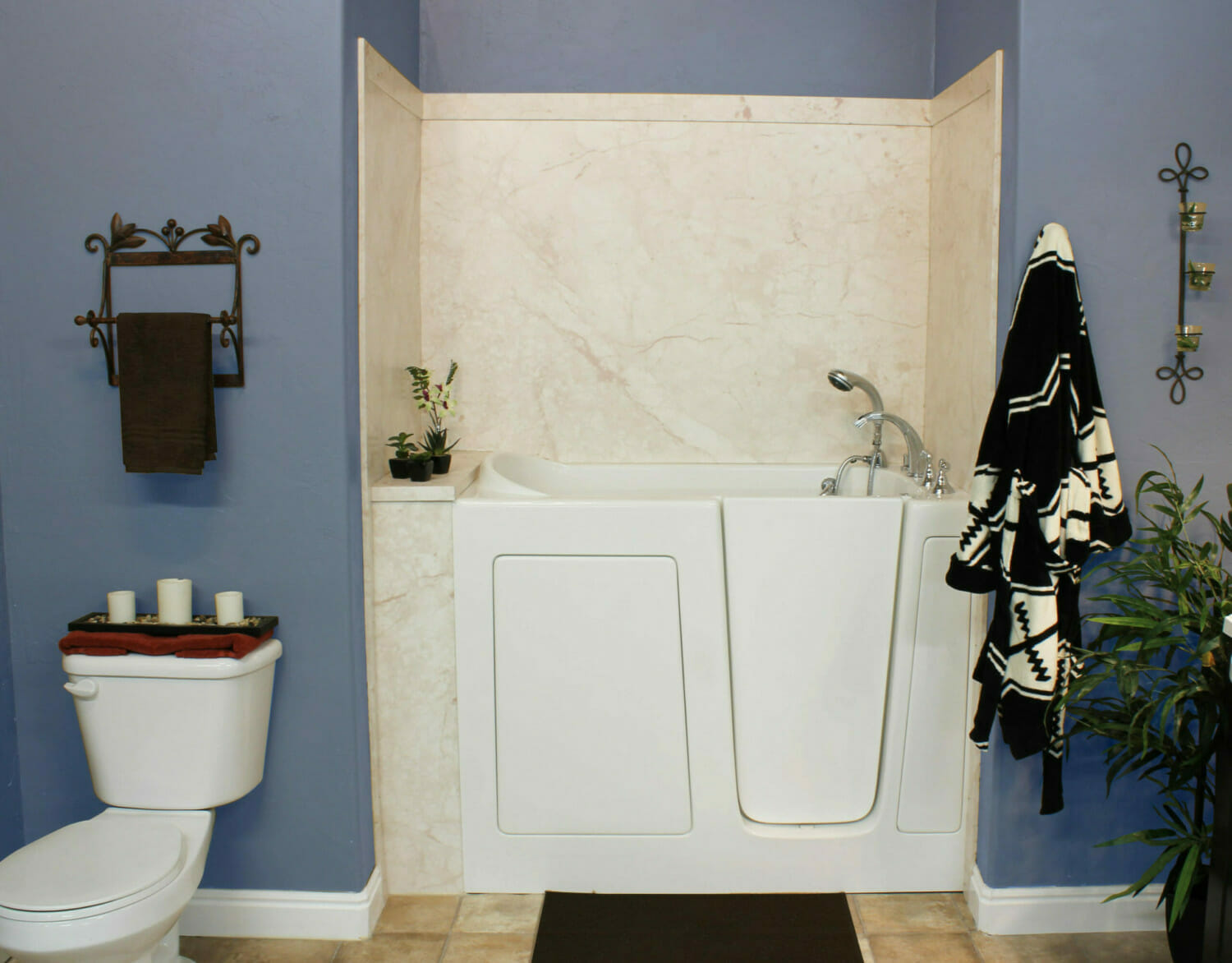 According to recent statistics, 1-in-4 Americans aged 65+ falls every year. The vast majority of these falls occurs in the bathroom. It is also believed that most of these bathroom falls happen in or around the shower and bathtub area, usually during an attempt to climb over the side of the tub or while exiting the shower area.
However, you shouldn't feel discouraged from performing your daily activities in your bathroom, provided it's been modified with safety and convenience in mind. Any bathroom can be made to feel safe and easy to use given the right modifications or additions.
Elderly and disabled individuals should not be made to feel as though their conditions have impeded their ability to perform routine day-to-day tasks such as bathing.
Efficient and Secure Installation
Allow Five Star Bath Solutions of Minneapolis to make your bathroom safer and more accessible today. Relieve your aches and slip into a state of relaxation with a warm bath in one of our quality walk-in tubs.
Products That Fit Your Unique Needs
We offer a variety of solutions because we understand both the uniqueness and universality of your needs. Keep reading to peruse our current selection of walk-in tub solutions.
Walk-in Tubs
We offer walk-in tubs with a multitude of handicap features such as anti-slip surfaces, grab bars, and low step-in passages. Our walk-in tubs also feature massaging water jets, for those interested in experiencing the relaxation of hydrotherapy from the comfort of their own homes.
Walk-in Tub/Shower Combo
Those who wish to relax in a bathtub without sacrificing the convenience of a shower would certainly be interested in our walk-in tub/shower combo. Featuring a shower wand, massaging water jets, and a personal hygiene jet that are a breeze to use with easily accessible controls.
Each of Five Star Bath Solutions' walk-in tub products is produced in the United States, and has been fully upgraded and customized to be expertly fitted in your homes. They come bundled with a great number of features such as:
Air jet systems
Low step-in passages
Seat and backrest with heating options
Easy to hold faucet and shower nozzles
Anti mold and mildew materials
Snug door seals with a lifetime guarantee
Three color options
Where to Get Started
Why wait to make your bathroom safer and more secure? Book your FREE in-home consultation with Five Star Bath Solutions of Minneapolis today and get one step-closer to experiencing the safety and comfort of a walk-in tub at home.