Kansas City MO Walk-In Tub Installers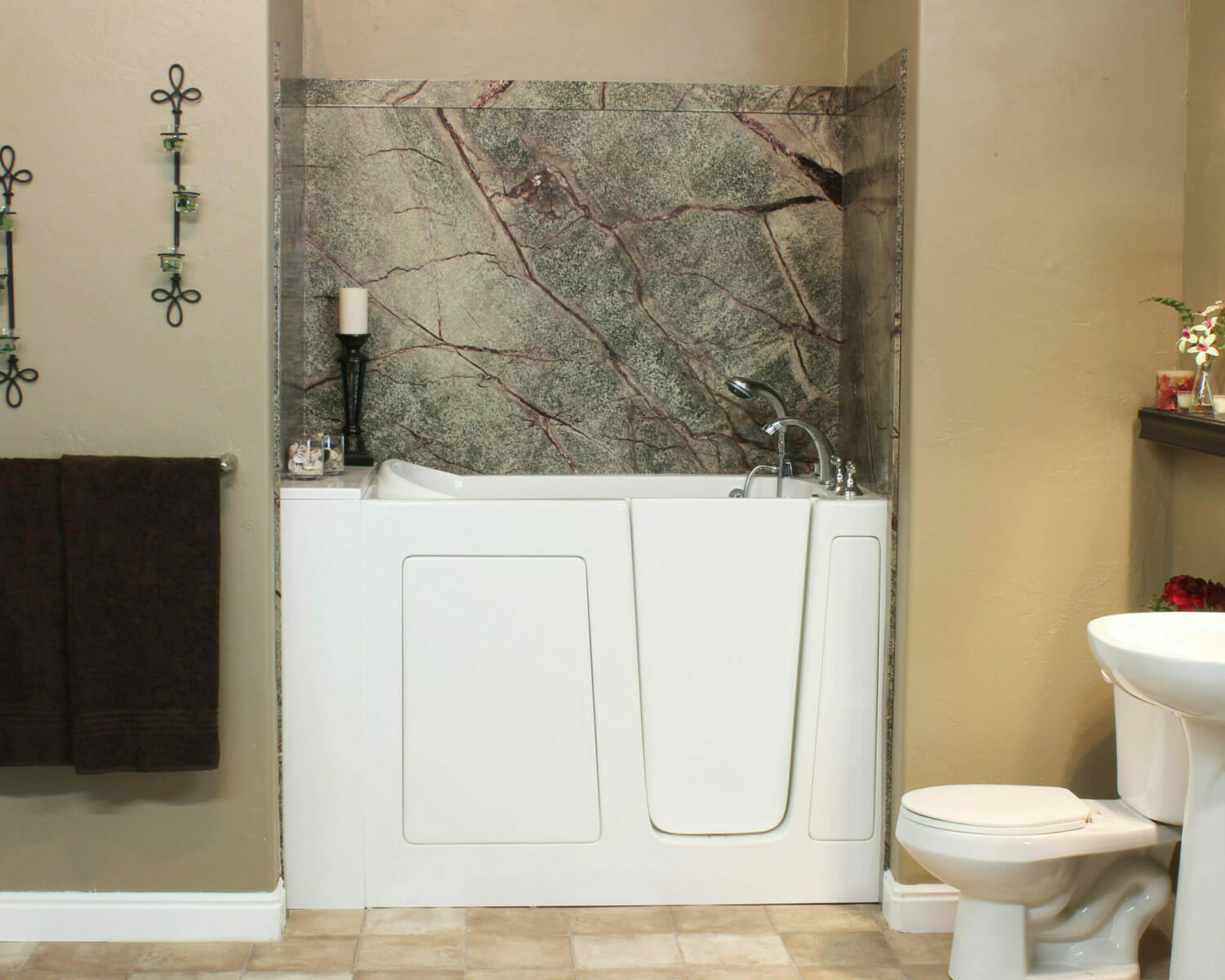 If you are worried about your aging relatives, it is a good idea to consider installing a walk-in bathtub. These tubs are now the first choice for senior citizens and baby boomers due to their amazing safety and convenience.
The walk-in tubs found at Five Star Bath Solutions of Kansas City MO feature many state of the art functions such as ease of entry and exit. They are also available with built-in seats.
Enjoy Convenience and Safety
If you are trying to remodel your bathroom to create a more safe and convenient environment, the walk-in tub is an absolutely unbeatable option. We at Five Star Bath Solutions of Kansas City MO can easily replace your high-sided tub with a state of the art walk-in bathtub with a leak-proof door.
This will eliminate any chances of slipping and falling on a wet bathroom floor and ensure that your experience is great.
You can rest assured that our walk-in tubs are fully customizable for all of your specific needs. They -come with a host of options such as whirlpool jets, built-in seats, and excellent safety equipment, including American Disabilities Act (ADA) compliant grab bars. If you want a walk-in tub for physically challenged people, these bars and other gear are the best choice you can find today.
Every walk-in tub by Five Star Bath Solutions of Kansas City MO has been proudly made in America. We stand by our products and we include various customization options as well as a professional installation by highly competent technicians. We offer some of the following standard safety and convenience features that are available without any extra cost:
Low step threshold to enable easy access for the elderly and the physically challenged
Excellent hydrotherapy as well as aromatherapy systems
Cutting edge air jet systems
User-friendly handheld shower nozzle and faucet handles
A rapid drainage system
The ability to fit in most tub openings
Multiple color options
A solid door seal that comes with a lifetime guarantee against leakages
Heated seats and backrests
Constructed from anti-mold and mildew materials for greater durability
Ease of Installation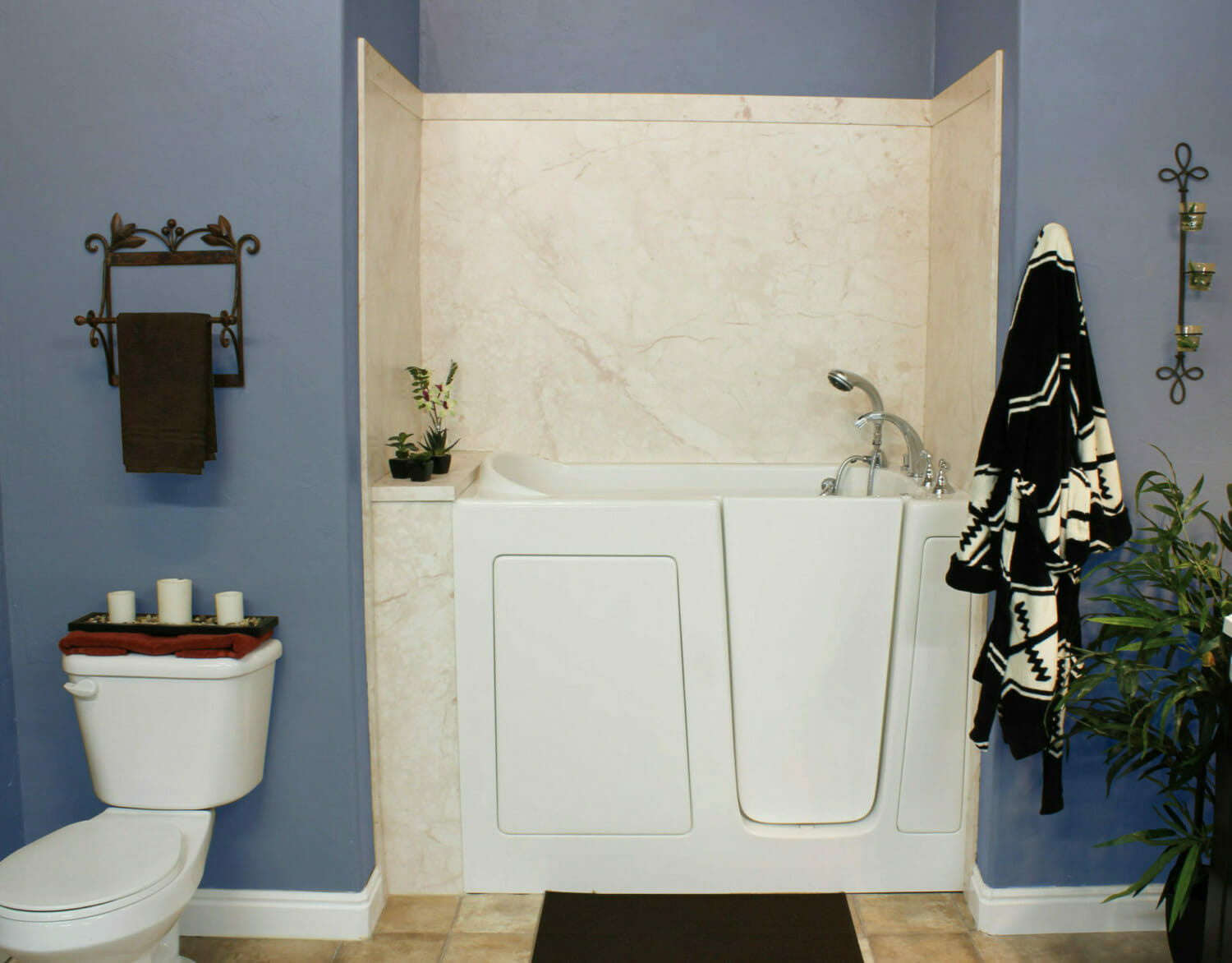 If you think that the installation of a new walk-in bathtub requires a really lengthy and messy renovation, you should think again. We at Five Star Bath Solutions of Kansas City MO have the ability to completely transform your whole bathroom in just one day!
This is thanks to our highly trained and experienced staff. Our people will always be at hand to help you to choose the ideal walk-in tub for your needs. Once you make the choice, they will install it within a few hours and clean up afterward. This way, you will have complete peace of mind regarding the quality of our services.
Safety and Luxury Combined
We at Five Star Bath Solutions of Kansas City MO are well aware of the dangers of unprotected bathroom floors for the elderly. We know that the tub and the shower areas are nearly always wet, and they can lead to a fall.
We have dedicated our whole walk-in tub line to create a calming refuge where you will be able to indulge in a warm and soothing bath to relieve your aches, stress, and pains. You can rest assured that your safety, health, and comfort are our topmost priorities. Keeping this in mind, we offer different types of walk-in tubs and showers to meet all of your specialized needs.
The Walk-In Tub and Shower Combo
Our walk-in tub and shower combination is the ideal choice for enjoying the relaxation of soaking in a walk-in tub, while enjoying the added convenience of a shower. Our shower and tub combinations feature easy-to-reach controls, gentle water jets, a powerful shower wand, and even a personal hygiene bidet.
Walk-In Tubs
Our walk-in tubs offer the powers of hydrotherapy to help boost your energy levels. They are equipped with anti-slip surfaces and the water jets create a spa-like atmosphere for your bathing pleasure.
We Offer Free In-Home Consultations
We at Five Star Bath Solutions of Kansas City MO are available for free in-home consultations for our valued customers. If you have any questions about installing a walk-in bathtub you can call us to schedule your free in-home consultation today!