St. Louis Shower to Tub Conversions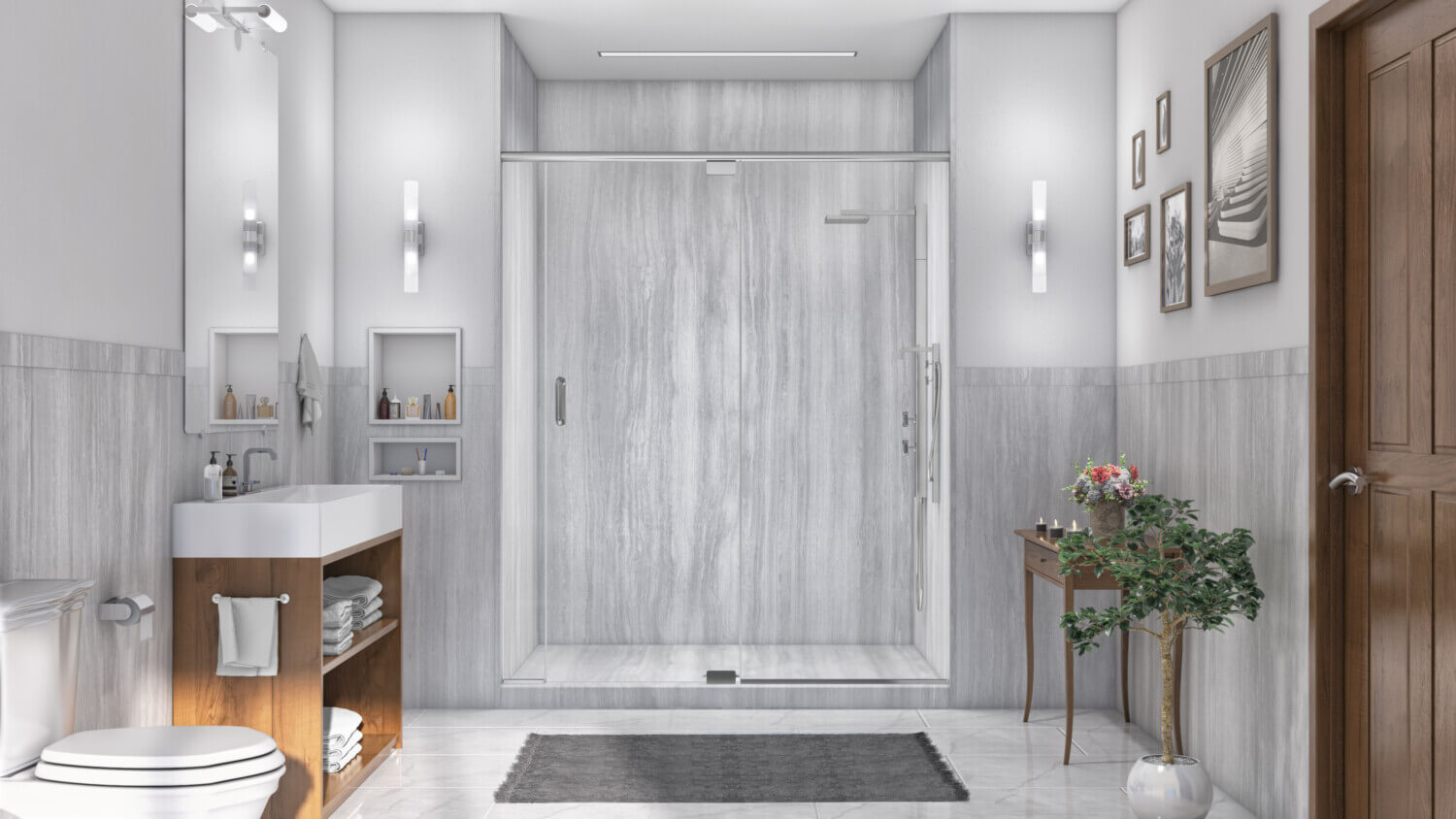 If you want to quickly transform your bathroom into a relaxing and enjoyable space, you should consider shower to tub conversion. We at Five Star Bath Solutions of St. Louis can help you. Through our commitment to quality, we have gained thousands of happy customers in St. Louis. And we can help you to realize your dream of a beautiful and relaxing bathroom as well!
Comfortable and Relaxing Bathroom
At Five Star Bath Solutions of St. Louis, we can create the perfect bathtub design that is made especially for you. We can custom design the tub according to the existing space. Once our experienced installers know the design requirements, they can install the perfect bathtub that will fit the space and match your budget requirements as well.
High-Quality, Durable Materials
All of our products are made of high-quality materials. Our bathtubs are long lasting providing you lots of enjoyment for decades. The non-porous, anti-microbial surface of the bathtub restricts mold, mildew, and bacteria formation. You will spend less time cleaning the tub and more time enjoying a relaxing bubble bath.
Here are some of the value-added benefits of our shower to tub conversion:
Anti-microbial, durable material provides resistance to cracks, chips, and mold formation
High-Quality sealant ensures longevity
Efficient, quick installation
Same-day installation services
Flexible financing option
Whatever your shower to tub conversion needs, Five Star Bath Solutions of St. Louis can turn your ideas into a reality. Our remodelers perform top-notch services. This prevents the need to re-do the work soon after the conversion.
We Offer Unmatched Excellence
At Five Star Bath Solutions of St. Louis, we leave no stone unturned when it comes to providing quality services to our customers. We provide unique services that ensure complete customer satisfaction. From the design process to the completion of the work, we make sure that our customers' requirements are fully met.
Creating the Best Shower to Tub Conversion
Five Star Bath Solutions of St. Louis attempts to create the best remodeling solution. We have a team of highly skilled and certified installers who can perfectly execute the shower to tub conversion project. We employ innovative methods that ensure quick and efficient installation of the bathtub. Whatever your design needs, we can meet or exceed them.
Best Bathroom Remodeling Services
Five Star Bath Solutions of St. Louis offers the best bathroom remodeling services. Our attention to detail results in products that completely meet the customer's exact requirements. We are always looking to improve our processes so that our customers get optimum value for their investment.
Reputable Name in St. Louis
When it comes to shower to tub conversions, we have become a household name. We believe that customer satisfaction is absolutely necessary. That's why we go the extra mile to make sure that we cater to every wish and requirement of the client. This has allowed us to become the preferred bathroom remodeler in St. Louis.
Free In-Home Consultation
The experts at Five Star Bath Solutions of St. Louis can provide you with free in-home consultation. Our experienced installers will arrive at your place to take photos and precise measurements. After knowing your budget requirements, they will offer suggestions for the ideal bathroom makeover so you can quickly make decisions regarding the shower to tub conversion.
Customized Shower to Tub Conversion
At Five Star Bath Solutions of St. Louis, we can make sure that we design a bathroom that meets your exact design specifications. Due to our extensive collection of bathtubs of varying color, size, and design, you are sure to select a product that perfectly matches your requirements. Whether you want a simple tub or one that makes a bold style statement, you can find it all.
Contact Five Star Bath Solutions of St. Louis today if you want to convert your shower to a tub. We have a team of highly professional installers who can quickly execute the conversion project. When you contact us for shower to tub conversion, you won't have to wait long to use the bathroom. Our experts can complete the product within 24 hours.
For a free initial consultation, dial (636) 735-7032 to connect with one of our customer representatives.