Richmond Walk-In Tub Installers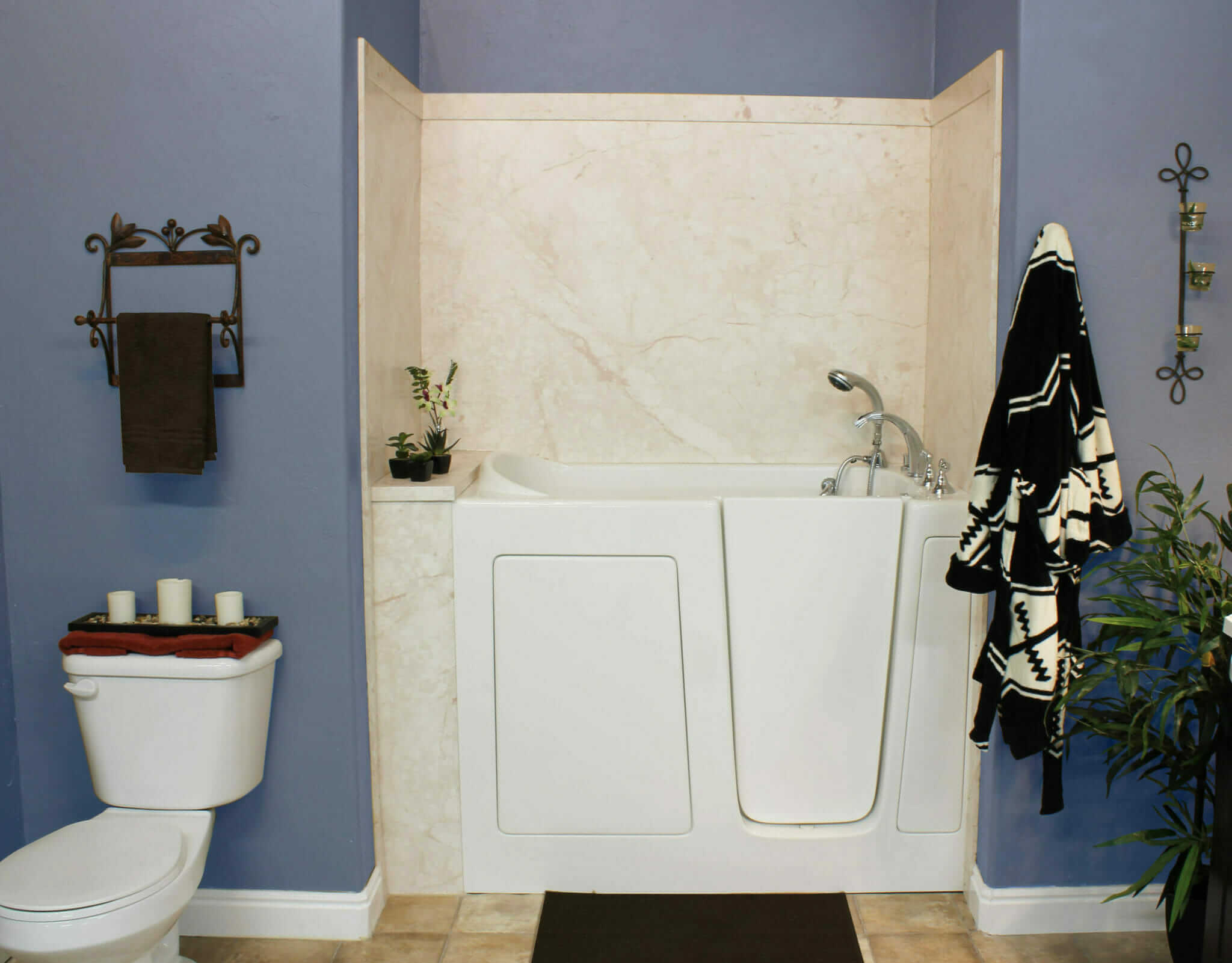 When it comes to safety, luxury, and comfort, walk-in tubs from Five Star Bath Solutions of Richmond are the best. Whether safety or luxury is your prime concern, our high-quality walk-in tubs will perfectly meet your needs.
Unbeatable Luxury and Value
The walk-in tubs from Five Star Bath Solutions of Richmond consist of comfort, safety, and luxury features. Our bathtubs have a range of hydrotherapy options such as massage jets creating a spa-like environment at home. Moreover, the bathtubs feature safety options such as anti-slip surface, ADA-compliant grab bars, leak proof side door, and much more.
Our walk-in tubs are especially suited to the requirements of aging individuals. If safety for the seniors is the main factor for the bathroom renovation, walk-in tub from Five Star Bath Solutions of Richmond will be the best option. Our walk-in bathtubs allow senior and handicapped individuals easier and safer access to the bathtub as compared to high-sided tubs.
Walk-In Tub/Shower Combo
Walk-in tub/shower combo from Five Star Bath Solutions of Richmond is best for people who want to enjoy a bathtub without sacrificing the convenience of a quick shower. The combo comes with loads of safety and luxury features including easy to access controls, shower wands, personal hygiene bidet, and more.
Durable High-Quality Material
Our walk-in tubs are guaranteed to last for a long time. The durable high-quality acrylic material of the bathtub will provide long lasting comfort and relaxation. The non-porous material of the bathtub prevents the formation of dirt, dust, You won't have to spend much time cleaning the bathtub.
Some of the value-added features of our bathtub include the following.
Air jet systems
Aromatherapy systems
Hydrotherapy feature
Handheld shower nozzle
Easy access faucet handles
Multiple design and color options
Lifetime guarantee on leak proof door seal
Heated seat
Comfortable backrest
Anti-microbial
Worry Free Installation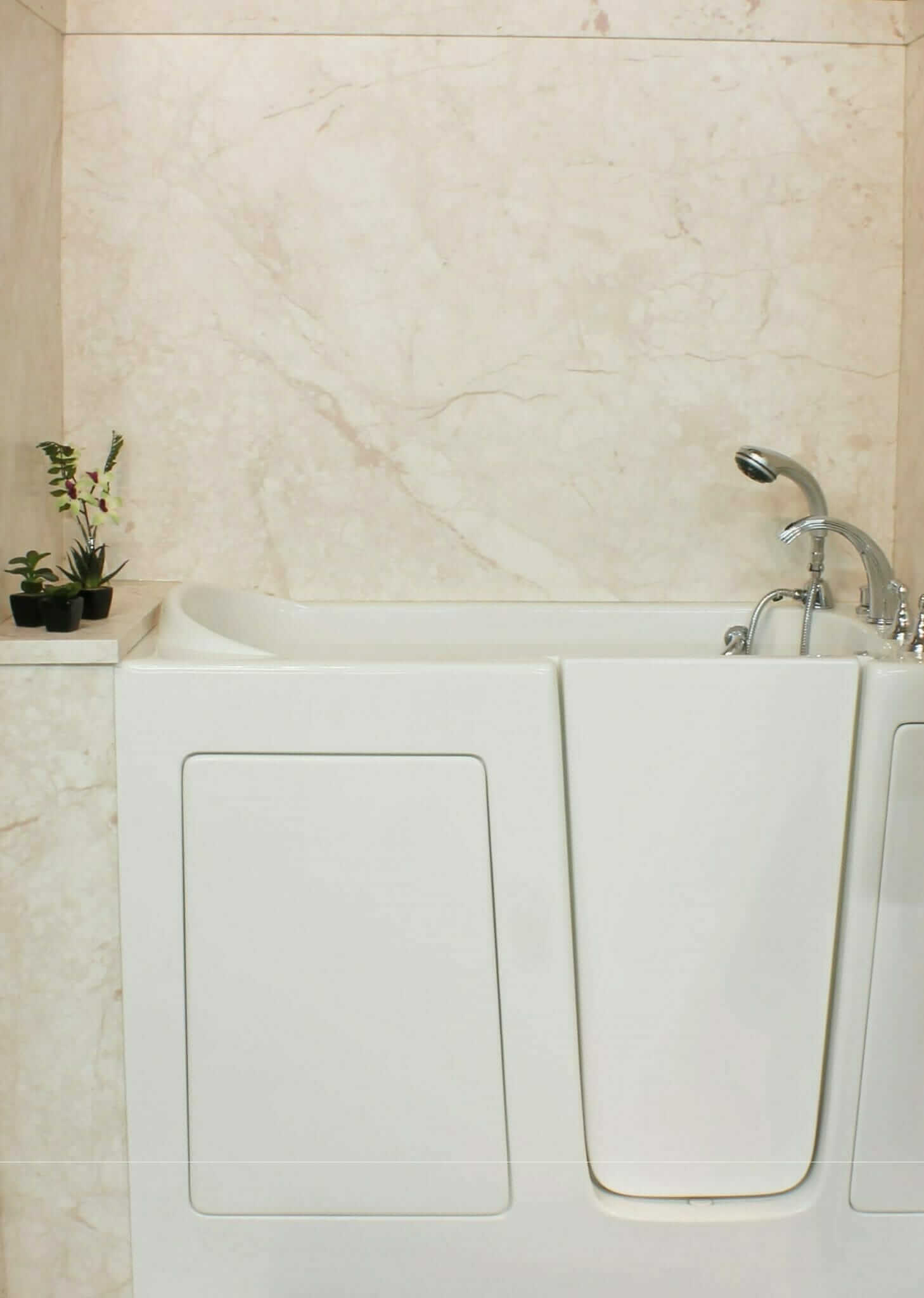 When you contact Five Star Bath Solutions of Richmond, you can rest assured of a quick and worry free installation of the walk-in tub. Our walk-in tub installers can transform your bathroom in just one day. When you are ready to improve the accessibility, comfort, and luxury of your bathroom, you should contact us. Our friendly staff will assist you through every stage of the installation process to ensure complete customer satisfaction.
Guaranteed Satisfaction
At Five Star Bath Solutions of Richmond, we take great pride in the quality of our product. Our walk-in tub will perfectly meet your comfort and safety needs. In the event, our walk-in bathtub develops a defect such as crack, chip, or discoloration, we can replace the product free of cost for you.
Quickest Installation
We recognize that most of our customers have a busy schedule. That's why our walk-in tub installers make sure that the installation is complete in just one day. They will quickly transform your bathroom into a comfortable and beautiful place. What's more, you won't have to worry about cleaning up the mess after the installation.
Healthier and Cleaner Bathtub
Our walk-in bathtubs feature anti-microbial properties. The bathtub restricts the growth of microbial pathogens such as bacteria, mold, and mildew. Your bathroom will be more hygienic and clean when you install walk-in tubs from Five Star Bath Solutions of Richmond.
Free In-Home Consultation
If you are having trouble in selecting the best walk-in tub for your bathroom, Five Star Bath Solutions of Richmond can provide you with a free, no-obligation consultation. Our design consultants can come to your home to determine your preferences and budget. They will then offer you a solution that will perfectly suit your needs. They will also address all your concerns regarding the installation of walk-in tubs. To schedule a FREE, no-obligation consultation with us, you should contact us today at (804) 203-0323.