Edmonton Complete, Professional Bathroom Remodeling
If there is one part of your home that should only be addressed by a professional for remodeling, it is your bathroom. This is where Bath Solutions of Edmonton come in. We are professionals that excel in offering the best bathroom remodeling solutions you can find. All our services are based on top-of-the-line and contemporary market practices.
We Promise Utmost Quality
If there is anything that we promise at Bath Solutions of Edmonton, it is to offer a top-notch service with a result that will leave you in awe. The best part about hiring us for the job is that we don't just renovate your bathroom, but ensure a great experience for you throughout the project. This is why we offer you the following services.
A team of professionals certified to get the job done in the most efficient manner.
The use of material required for installation are supplied by top vendors of the industry and feature lifetime guarantees.
We offer discounts.
It takes a maximum of one day for our team to complete your bathroom remodeling.
All our team members are friendly. You can suggest ideas and they will merge them with their innovative expertise.
Quick Services
For Bath Solutions of Edmonton, your time is of the utmost value. We don't take weeks to complete your remodeling project. We ensure that everything from the first step to the last is done within a day. When you hire us, you get a diligent, hardworking team dedicated to providing an exquisite bathroom remodeling project.
Bath Solutions of Edmonton stands out when it comes to designs for your bathroom. We incorporate your ideas with ours to bring to you a design that cannot be found anywhere else. It's personal and it's unique.
With Bath Solutions of Edmonton, cleanup is another thing you don't have to worry about. Unlike other service providers who take ages to get the job done and leave you with a mess, we get the job done in a day and clean the rubble created as a result of the renovation.
Why choose Bath Solutions of Edmonton?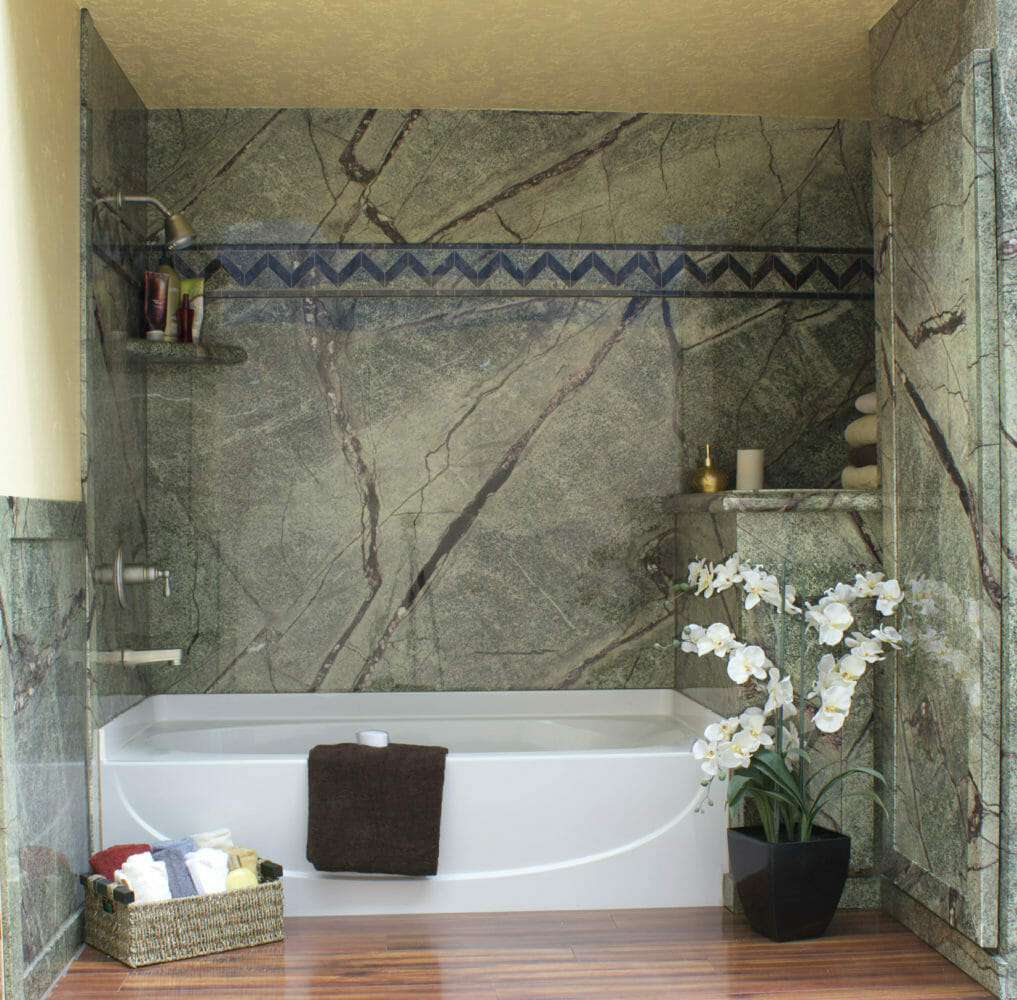 Still wondering whether you should opt for us or not? Here are more reasons for you to make a wise decision. At Bath Solutions of Edmonton, we excel at designing a bathroom, installing top-quality products, and fixing areas that have worn out.
We take care of the entire process and ensure that you have the most desirable experience. Our professionals work hard to get the job completed in a timely manner, without compromising on quality. Another major reason why so many people choose us is that we are known in Edmonton. We have served here for years now and have managed to elevate our already-great quality of service with every new job.
Loads of Variety
Bath Solutions of Edmonton is known for offering a large pool of high-quality products for your bathroom. We work with some of the top vendors of the industry. This means the products used are of the highest quality. Moreover, since our suppliers are as diverse and innovative as we are, you get a large variety of objects and supplies to choose from. This allows you to give your bathroom a stunning makeover while maintaining a really high quality.
Experience the Difference
Bath Solutions of Edmonton offers more than a bathroom remodeling job. We offer our team regular training in how to keep the customer happy. This is why our team members are always extremely polite and maintain a level of professionalism that is appreciated by the clients.
In-home Consultation
Bath Solutions of Edmonton provides free in-home consultations. You can call us at (780) 628-2027 for more information on the free in-home consultation. You can also dial the same number to hire us for your bathroom remodeling project. We are uncompromising in the quality of our services so you can relax and enjoy your bathroom remodeling with us around!