Cincinnati Shower to Tub Conversions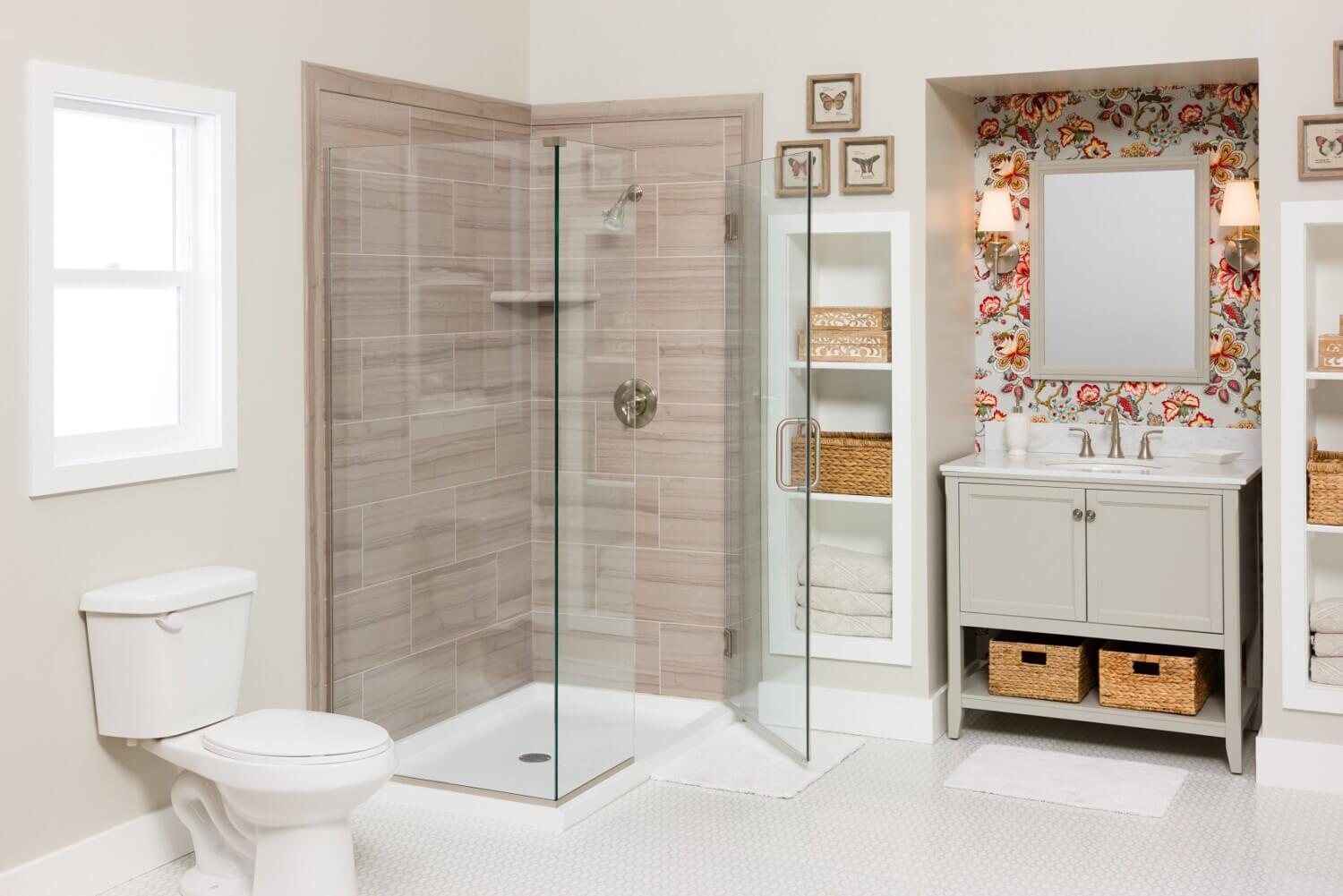 Does your bathroom look cramped and dated? Five Star Bath Solutions of Cincinnati can turn your space into a luxurious spa by replacing your old bathtub with a state-of-the-art walk-in shower. Our modern shower conversion will not only enhance the aesthetic appeal of your bathroom but also add to the market value of your home.
Walk-in showers are a perfect option for households with young kids and elderly family members. Since the tall walls of traditional bathtubs increase the risks of slips and falls, we design our showers to maximize your space, increase mobility, and reduce safety hazards.
Five Star Bath Solutions has become one of the most trusted names in bathroom remodeling. Our stellar customer satisfaction record is a testament to our professionalism and work ethic.
Here are some of the most notable features of our walk-in showers that you must know about:
Modern and Innovative Designs
Our expert designers are always up-to-date on the latest trends. They will listen to your hopes and dreams for your walk-in shower before presenting you with the best design options for your space. We make sure our clients know exactly how their bathroom would look before we even start shopping for the materials.
Moreover, Five Star Bath Solutions will always respect your budget so you can enjoy your shower conversion without worrying about its cost.
Improved Safety Features
It's easy to lose one's footing while stepping into a bathtub. Therefore, our walk-in showers boast anti-slip flooring to minimize potential accidents.
Let's look at some other safety features that have made our shower conversions the talk of the town.
Built-in shower benches
Shower bars and rails
Low curb shower entry
Walk-in tubs with easy open doors
Handheld showerheads
Top-of-the-Line Material
Five Star Bath Solutions of Cincinnati provides its customers with five-star materials without the five-star price.
We work with the best manufacturers to create high-quality products that will last for years to come. These premium and stylish materials will fit your space like a glove while adding to its overall charm.
Little to No Maintenance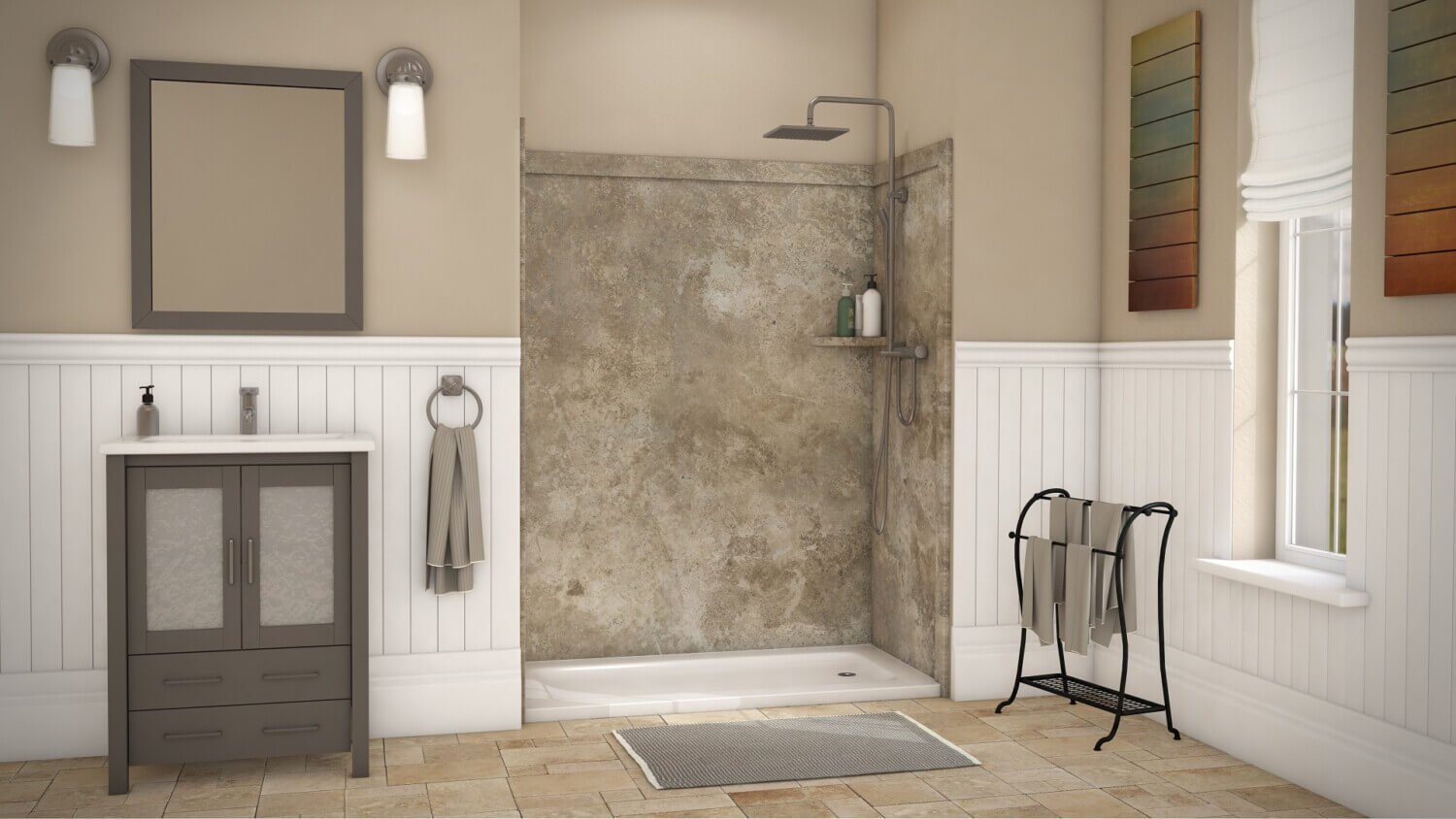 We don't want our customers to spend countless hours scrubbing their bathroom floors and walls. Hence, we only install custom-made fixtures that are easy to clean and require little to no maintenance.
Our tub and shower wall surrounds, glass shower doors, and flooring are all made from quality materials that are highly resistant to stains and scratches. These fixtures will not accumulate any dirt or grime, making them easy to clean.
Highly Trained Technicians
Five Star Bath Solutions takes great pride in its team of talented technicians. Our crew is well-versed in the art of proprietary installations, ensuring your shower conversion exceeds your expectations in terms of beauty and functionality.
Furthermore, we take care of the entire installation process from start to finish. So all you need to do is sit and relax as we work our magic.
Quick and Hassle-Free Installation
Why spend days remodeling a bathroom when you can do it in a day?
We fully understand that renovations can quickly become a headache for those living in the house. Hence we make sure our installers convert your bathtub into a walk-in shower in as little as 24 hours. Our technicians use cutting-edge equipment and techniques to ensure your space looks picture-perfect before wrapping up the project.
Long-Term Warranties
Five Star Bath Solutions provides its esteemed customers with warranties so they can rest assured that their bathroom is in the best hands.
Schedule a Consultation Today
If you want to upgrade your bathtub to a walk-in shower, please feel free to call (513) 866-3297 to schedule your free in-home consultation.