Louisville Walk-In Tub Installers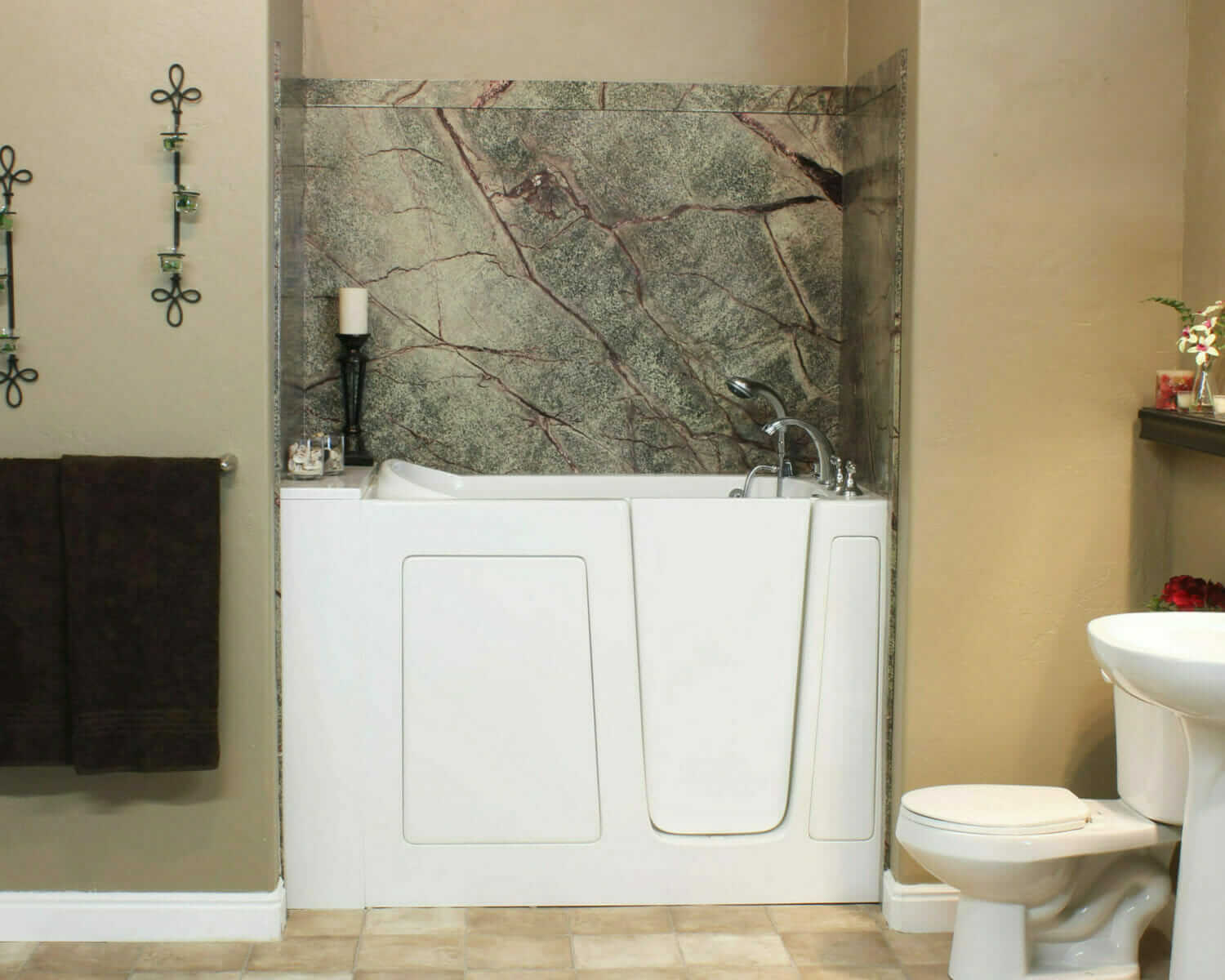 When you are in your later years, you need to change plenty of things in your surroundings including your bath spaces. At Five Star Bath Solutions of Louisville, we have experienced walk-in tubs installers.
Bathroom Design under your Budget
Bathroom renovations are costly and if you want to get things changed without worrying about the costs, get in touch with us! Our bathroom remodeling costs are reasonable and ideal for those on a budget.
What makes us the go-to walk-in tub installers in Louisville is our attention to detail. We specialize in custom walk-in tubs with advanced entrance and safety features. From easy access doors to built-in seats, our walk-in tubs are super safe for the elderly.
If you don't want an existing tub extraction, we can build a new free-standing unit in your bath tub or shower area. What's more is that our team of experts follows universal design concepts to ensure that the end result is exceptional.
Superior Safety and Convenience for the Elderly
The purpose of walk-in tubs is to keep you safe and make it easy for you to walk in and out of the bath. That's exactly what we offer!
At Five Star Bath Solutions of Louisville, we design walk-in tubs with easy access doors to protect you from falls and accidents. Our walk-in bathtubs are made from premium quality materials that prevent leakage. The doors are leak-proof, offering you a chance to soak in warm water whenever you desire.
If there's a specific feature that you are looking for, we can make that happen for you without any questions asked. We can also add built-in seats to your tub and other features such as whirlpool jets and additional safety equipment. We also offer ADA compliant grab bars for added safety.
Louisville's Premier Walk-In Bathtub Company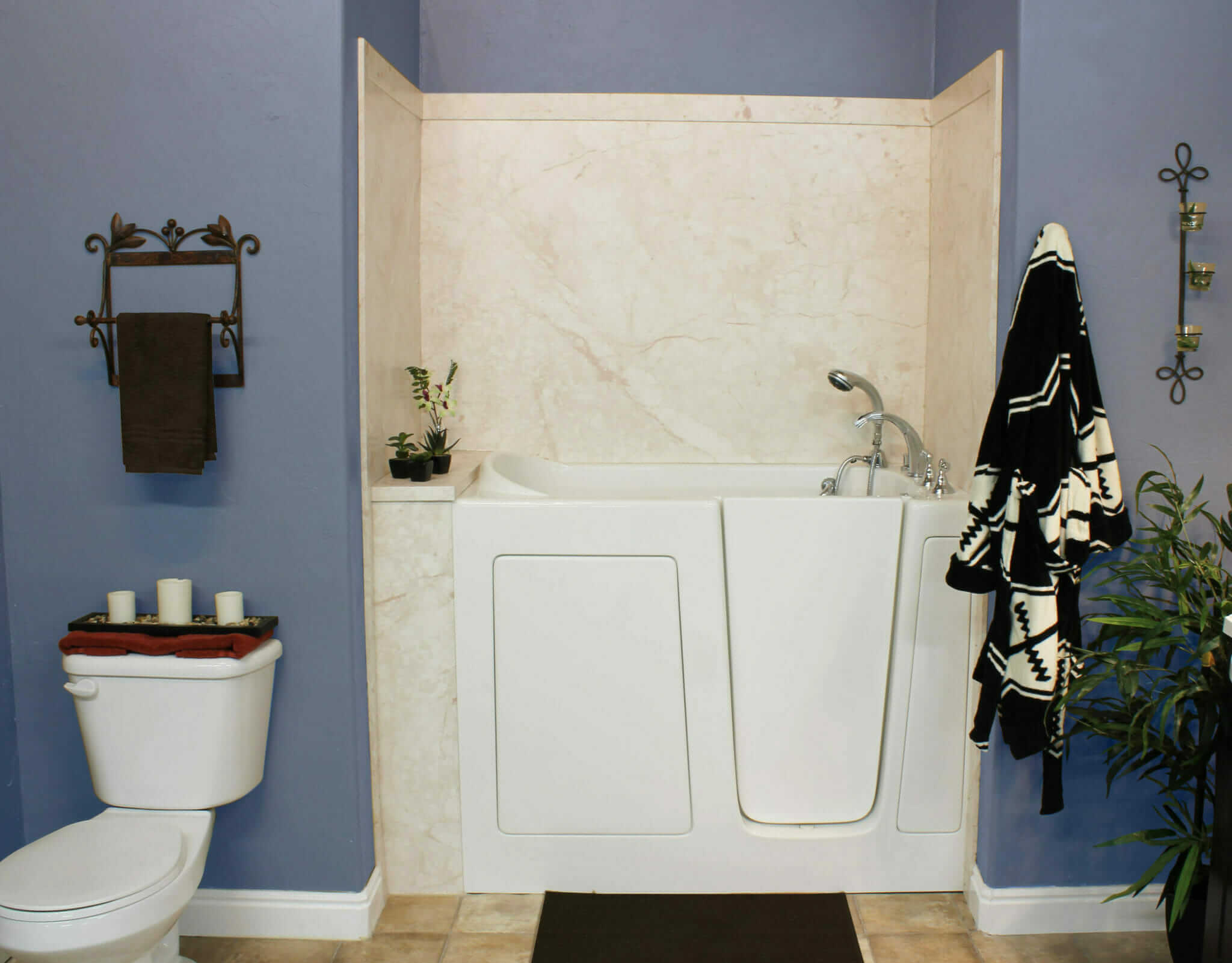 Avoid messy and stressful bathtub renovations. Five Star Bath Solutions of Louisville is experienced in handling even the most complex bath tub renovations. We are a leading bathroom remodeling company with over a decade of experience.
Our walk-in tub installation service is high quality and mess-proof. Our team of experts can transform your bath space into a spectacular bathroom in just a day. We offer complete flexibility to you during the renovation project, allowing you to select a custom design, style, and color for your tub.
The tubs that we install are made from premium quality acrylic with anti-microbial technology that prevents mold and mildew buildup.
Get Free In-Home Consultation
When you call us, we connect you with a professional representative who schedules a free in-house consultation with you. The reason that our face-to-face consultations are a must is that they allow us to understand your needs in a better way and offer you a service that is truly impressive and satisfying. So, if you are in search of a walk-in bathtub installation expert, look no further than Five Star Bath Solutions of Louisville.
Our Products meet American Standards
When it comes to bathtub renovations, we take it upon us to find the highest quality materials that not only fit your budget needs but also prove durable in the long run. That's the reason we only select products that meet American standards for durability and safety.
Our walk-in tubs can be customized with a range of features including the following:
Heated seat and backrest
Air jet systems
Fast flow drain system
Door seal
Hydrotherapy and aromatherapy systems
Three colors
Low step
Faucet handles and handheld shower nozzle
Anti-microbial system
You can get these features added without additional costs.
Prevent Bathroom Injuries with Walk-In Tubs
According to CDC, 80% of all bathroom injuries are caused as a result of falls. And almost two-thirds of all injuries occur in the shower or the tub. In order to protect yourself from such injuries, it is important to consider safe bathtubs like our walk-in tubs.
We can prevent such accidents from taking place by offering a walk-in tub that fits your needs. Our walk-in tubs are made from cutting edge technology and smart features that minimize your chances of slipping and falling down.
Whether you are in your forties or sixties, these tubs are built to offer complete body support so you can shower carelessly.
Shower with Complete Peace of Mind
We can make your bath safer by installing quality walk-in tubs. So, even with your physical disabilities that come with age, you can shower with the peace of mind that you are completely safe. We are the go-to Louisville walk-in tub installers that can complete the installation within a day to avoid any hassle. We give priority to your health and safety, making your bathroom space a stress free zone.
Five Star Bath Solutions of Louisville offers free in-home consultations if you are considering a walk in tub. To schedule your free in-home consultation call us today.