Four County Walk-In Tub Installers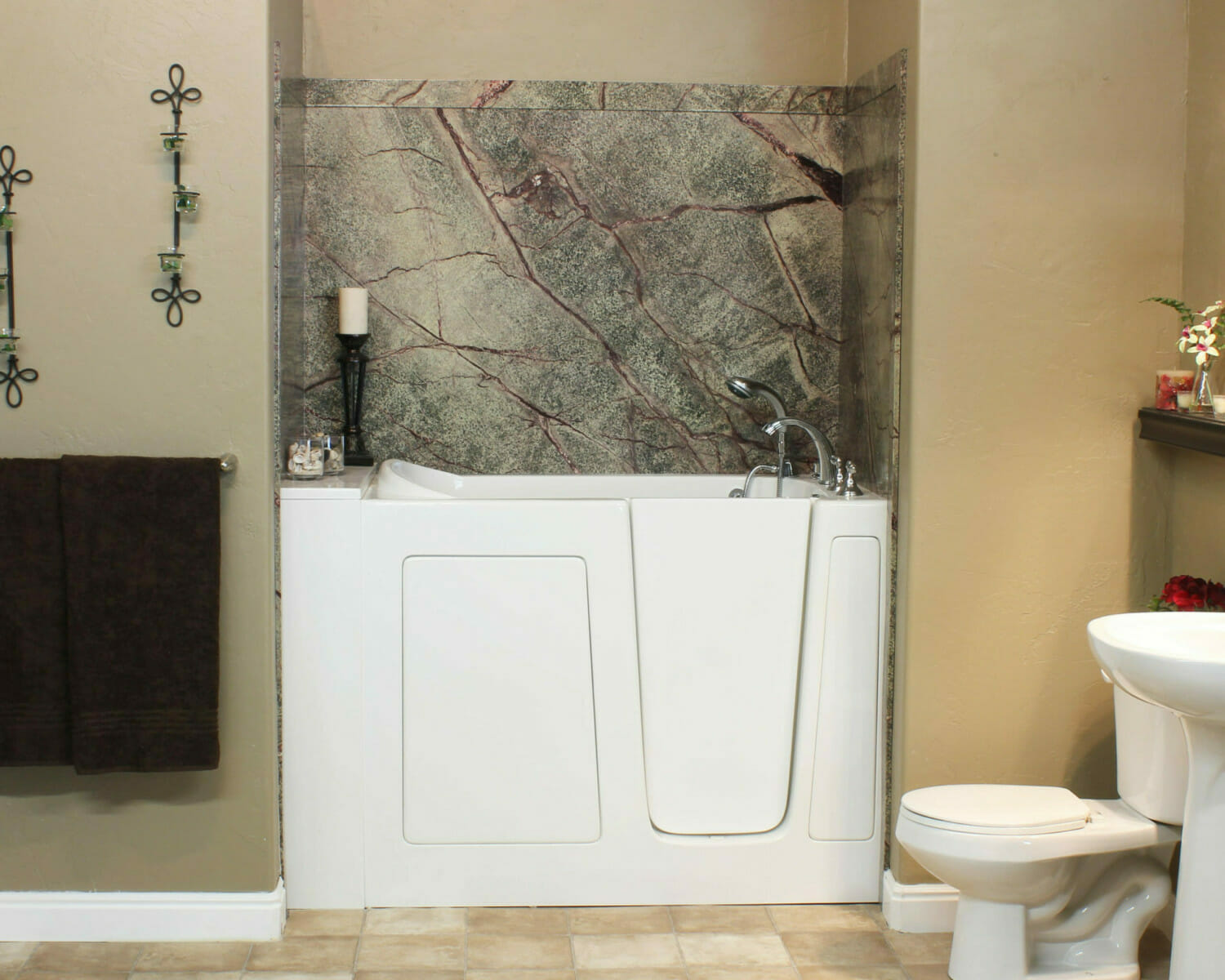 Every bathroom has a universal design, and homeowners are often on the lookout for something unique and luxurious. If you have outgrown your simple shower stall, then consider getting a walk-in bathtub from Five Star Bath Solutions of Four County MD.
The reason why more and more people now prefer this over a shower is because it has an easy and safe entry and exit with built-in seats. It's your choice whether you want the seat to be built into the bathtub or remain freestanding.
Safety Comes First
Walk-in bathtubs are an unbeatable option if you desire convenience and safety. Give Five Star Bath Solutions of Four County MD the chance to replace your high-sided tub with something more sleek and stylish; which we might add also has a side door that is leak-proof. You can rest assured that when you exit the bath-tub, you won't slip and fall.
If you are looking for a design that suits your needs more, then we can help you customize your bathtub with options such as whirlpool jets, built-in seats, and safety equipment like grab bars that are ADA-compliant.
Premier Bathroom Remodeling Company
If you want a walk-in bathtub installed in your existing bathroom space, then don't worry about a messy and lengthy renovation. Five Star Bath Solutions of Four County MD will completely transform your bathroom in just one day. Just tell us when you are ready, and our installation experts will guide you at every step of the process.
Starting from an in-home free-design estimate, we will help you pick the right colors, accessories, features, and styles for your bathtub. Every product we manufacture contains high-quality acrylic. The four things that we are proud to associate with our service and that prove how trustworthy we are include antimicrobial installation, limited lifetime warranty, flexible financing options, and positive customer testimonials.
For a healthier, cleaner, and more luxurious bathing experience, you can trust Five Star Bath Solutions of Four County MD. Call us now to book an appointment to discuss your bathroom transformation! Talk to our friendly customer service representation and get more information on how to schedule your in-home free design estimate.
Luxury Means Nothing without Safety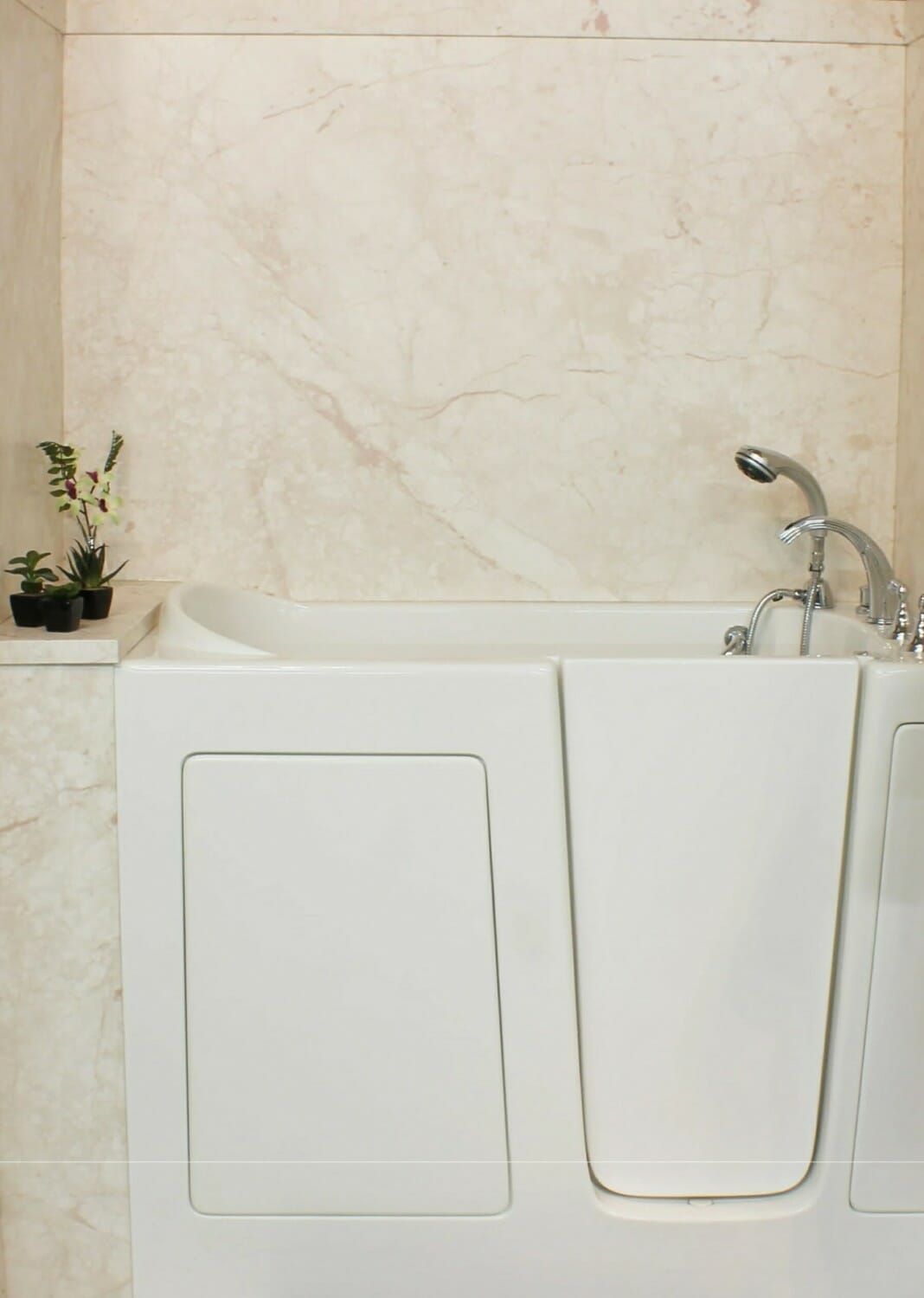 Walk-in bathtubs provided by Five Star Bath Solutions of Four County MD have been specifically designed for the needs of the disabled, handicapped, seniors and anyone who faces mobility challenges. According to statistics, more people fall in the bathroom than in any other room. CDC reports the 2/3 of falls occur near the bathtub that results in extremely painful injuries.
This usually happens when you raise your foot to step over the bathtub ledge or put your weight against the shower stall that wasn't meant to hold so much weight. In fact, the injuries resulting from such falls increase in number when you are 65 or older. This is when you start losing your balance and eyesight.
What's the bottom line? 1 in 3 adults over the age of 65 fall every year in the bathroom!
Despite being a room full of potential hazards, the bathroom is still your calming refuge. To help enjoy a relaxing and warm bath that relieves all your stress, aches and pains, we will make sure that your next bathtub is the safest bathing option.
Creating an Enjoyable Space
Five Star Bath Solutions of Four County MD develops hazard-free bathing solutions for you that will make your bathroom more comfortable and a safe space. Our walk-in bathtubs come with numerous therapeutic benefits, which make them ideal for seniors.
The dual hydrotherapy system feature helps increase mobility, boost energy, relieve pain and improve sleep. Moreover, you can maintain your independence instead of worrying about changing house because the existing bathroom design does not match your needs.
Safety, Health and Comfort
Our top priority is to make sure that you are satisfied with the products we offer.
Walk-In Tubs
There are plenty of safety features in our walk-in bathtubs such as hydrotherapy to boost energy and relieve pain. Then there's safety features that include built-in grab bars, anti-slip surfaces and low step-in. For a spa like experience, we have added multiple hydro-therapeutic soaking options like massaging water jets, heated seats and more.
Shower/Walk-In Tub Combo
If you are looking for an option that provides you the ease and luxury of a bathtub and convenience of shower, then we have just the thing for you. This combination includes controls that are within reach, massaging water jets, a shower wand, and a bidet.
All products offered by Five Star Bath Solutions of Four County MD are American-made. They come with standard safety features at no extra cost and are professionally installed. The following are features that we offer in our walk-in bathtubs:
Air jet systems
Aromatherapy and hydrotherapy systems
Fast flow drain, which minimizes waiting time
Low step ledge for easy access
Handheld shower nozzle and friendly faucet handles
Door seal that has a lifetime guarantee
Heated backrest and seat
Three color options
Mold and mildew protection
Fits in majority of the tub openings
In-Home FREE Consultations
If you are considering a bathroom renovation and are looking for a quality walk-in bathtub, then Five Star Bath Solutions of Four County MD offers you an in-home, free consultation. We will answer all your questions face to face and then, after nothing down, we will install a walk-in bathtub you desire that will change your life.
To schedule an appointment, call us at (240) 221-5058 today!